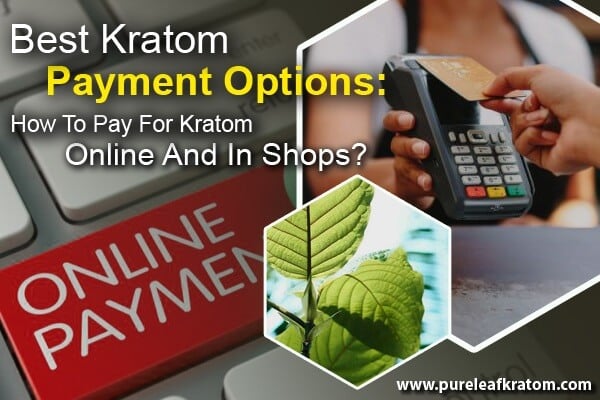 Best Kratom Payment Options: How to Pay for Kratom?
Kratom shopping can be overwhelming because of the endless options online. If you are looking for authentic products that will give you an exciting experience, try an online shop that offers convenient services and payment plans. Knowing the best Kratom payment options, how to pay for Kratom online, and even the price ranges will add to the energizing results.
Due to the controversial status of Kratom in America, so many online shops and local vendors do not accept various modes of payment and want cash. If you do not want to pay cash, then what other types of payment methods can you use? Online shops will not accept cash because they need advance payments and will not deliver Ketum items until you pay in advance. So then, how can you pay?
Click Here To Buy Chief Kratom Online
Best Kratom Payment Options
The best option for any consumer would be to pay online, and there are many ways to do it. Here we are sharing some of the most common and accepted methods of payments for online shopping. If you are shopping from an online shop that offers any of these methods of payment, you can buy from them without worrying about the quality because the shops that offer these payment options are the ones that have a strong network, quick shipping, and are registered companies.
E-checks


E-checks used to be the most common payment option for online Kratom shopping because these online shops are not under FDA regulations. Many banks and financial institutes did not back these companies because of Kratom's legal status. Since Kratom is not legal in all states, any bank that operates nationwide might have issues with bank transactions related to Kratom. E-check is a convenient and safe online money transfer that provides customers a chance to shop freely.

All other payment options are available now, but many regular customers still want to buy Kratom by paying with E-checks because they have been doing that since they began using Kratom.
Bank cards


Everyone uses Visa, MasterCard, or American Express these days. There are so many other options for bank card holders, but they prefer this safe method. Will it work for Kratom? Now that people are becoming more aware of Kratom, and the network of online shops is getting bigger, even banks have become more open to accepting Kratom payments and making all transactions possible. Many AKA-approved shops are offering debit and credit card payment options.

Money order
Another conventional and safe method for Ketum shopping. When you are buying Kratom online, there is no way of paying cash because the shops require advance and do not accept payment at the time of delivering the package. A money order is a simple way of transferring the full amount without additional charges.
Cryptocurrency Becoming A Popular Kratom Payment Option
Cryptocurrency is a new way of payment as this digital currency is taking over the financial markets and gaining attention from investors. Cryptocurrency is a virtual currency that is not centralized and the banks have nothing to do with it. If you deal in this currency, you can buy Kratom from various shops.
The online shops that have cryptocurrency payment options are quality vendors that are backed by a strong company brand. Small vendors and cheap Ketum sellers will not provide you the option of paying through this method. This method is safe, and private and does not involve any bank transactions. Cryptocurrency works when miners verify payments and users and the process is instant.
AKA-Approved Shops And Best Kratom Payment Options
The payment options that a shop gives say a lot about the shop's quality. If a shop is only accepting money orders and E-checks, it means that the vendor may have opened a long time ago but they did not grow. It can also mean that the vendor is not focused on delivering convenience for customers. If a shop is not trying to make your experience comfortable, the products might also be lesser in quality.
On the contrary, if a shop is offering cryptocurrency, bank transfers, and also offers bank card payments, it is a reliable vendor! The involvement of banks and the openness of financial institutes towards Mitragyna vendors happened recently. The registered manufacturers have a wide customer base, pure and authentic Kratom for Southeast Asia, and laboratory-tested products sealed in GMP-compliant packaging. These shops will sell the safest and most trustworthy products, and consumers will find the experience convenient and comfortable.
Click Here To Buy K 80 Kratom Extract Online
Frequently Asked Questions
When you are trying to find a quality Kratom vendor, the best Kratom payment options are a part of the experience. Many people ask about the best payment choices, and regular users and experts can guide them better. Check out some of the common questions and answers by experts.
Which Kratom Payment Option Is Best?
Payment options that are most convenient for you will be the best! If you prefer to pay through a bank card or cryptocurrency, then these methods will be best for you. The choice of payment options can vary with individuals, and therefore, you have to find a reliable shop. All customers must check customer reviews to see what current buyers have to share about a particular vendor.
These reviews often cover payment methods and options also because this feature will add to your experience. If a shop sells quality products but only offers e-check payment, some customers might not want to buy from them. Most of the top brands for Kratom offer all payment options to suit all customers.
Is It Safer To Pay Through Bank Cards?
Bank card payments are instant, and they are safe because the customers share details over a private link. However, there are other safe payment options as well. Money orders, e-checks, and cryptocurrency are all safe payment options. All Kratom shops offer safe payment methods, and there are no unreliable transfers.
The safe and protected payment methods suit the vendors as well. Imagine if a customer transfers money through a particular method, and the vendor's bank information is shared in full. This can put the company at risk as well. This risk is the reason all vendors offer safe methods for convenience and instant transfers.
Which Method Is The Fastest?
Cryptocurrency and bank card payments are the fastest, as consumers can use them to ensure quick shipping. All vendors promise same-day shipping, and as soon as they receive payment, the order leaves the warehouse. When you pay for Kratom through bank cards or cryptocurrency, the vendor receives money instantly, and the order can reach you within a short period.
E-checks and money orders take a long time because first, the bank gives clearance, and then the central financial institution forwards it to the vendor's bank account. The notifications for these methods are also delayed, so it takes longer for customers to receive their Kratom package.
Is PayPal A Good Kratom Payment Option?
PayPal is a safe and quick money transfer, but there are better options for online Kratom shopping. Users and vendors have had poor experiences, such as the seizing of their accounts and cancelation of payment because the FDA does not approve of Kratom. Due to this lack of approval, many banks also had issues with Kratom payments, but that is changing. However, PayPal has closed customers' accounts, and the payments have declined in the past, due to which many quality vendors do not offer PayPal payments.