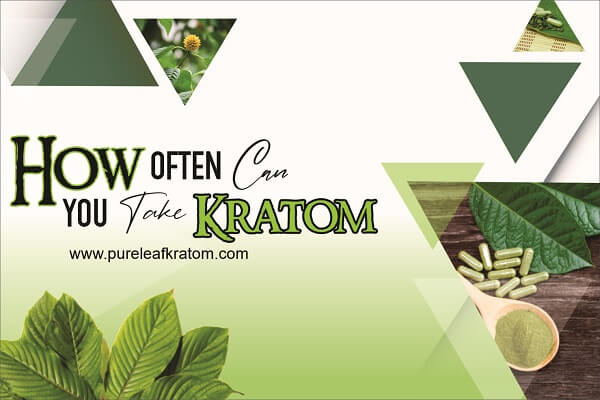 Kratom Consumption: How Often Can I Take This Magical Herb?
Kratom consumption is complex as well as a very important subject for Kratom users. Many new users feel confused about how often they can consume Kratom. It is different for everyone, and you can find the perfect dose after a couple of trials.
If you are just starting your Kratom journey and about to try it for the first time, there are a few guidelines when it comes to Kratom consumption. In this article, we will have a closer look at how you can take this botanical.
How Much Kratom Can I Take As A Beginner Or Experienced User?
Many users can't get Kratom to work for them properly like it should, while some are happy and satisfied with the results and would love to continue it in the future. If you are a Mitragyna Speciosa user, you should also be careful about its consumption. Below are some important points you need to know when consuming Speciosa.
Dosing
The appropriate dosing of Kratom depends on several factors, including the user's age, health, and several other conditions, including weight, daily water intake, etc. There are no specific recommended doses for Kratom consumption. Since Mitragyna Speciosa is an herbal product, you need to be extra cautious with it. If older people are using it, they should be careful about the dosage. With age, the body tends to slow down, including its metabolic process leading to late absorption and excretion of Kratom from the body. If your daily water intake is not enough to keep you hydrated, you should also be cautious while consuming Kratom.
Observe How Your Body Reacts To Kratom
This method will help you figure out how much Kratom consumption is enough for your body or how your body is reacting to a specific dosage. You may already have read reviews or asked old users about the dosage, but your body may still react to it differently and totally opposite from theirs. You should be aware of the amount of Kratom your body can handle. If you're a beginner, start with the dose as low as possible. Monitor the symptoms and the effects on your body. If you do not feel anything unusual in your body, you are good to go. You can gradually increase the dosage once your body gets used to a specific amount.
Document Your Intake
The dosage and frequency of Kratom intake depend on what effects and results you desire from this botanical. Kratom users have different feedback about the dosage. Some are taking a minimal amount and are satisfied with the results, and some are consuming large amounts and find this dose the most effective. Kratom capsules can be a convenient way to keep track of intake, as most capsules contain 0.5-0.6 grams of kratom powder each. Try experimenting with what dosage settles the best for you. You can also write down your everyday intake to avoid overdosing or taking less than the required dose.
Take It With Juices
Traditionally, this botanical's fresh or dried leaves were chewed or brewed into tea. You can also add kratom powder to lemon juice, grapefruit juice, cranberry juice, orange juice, milk, protein shakes, coconut water, or anything that suits your taste. Mixing Kratom with tea or juices will enhance its taste and add nutritional value. Many people found the taste of Kratom unpleasant. Mixing Kratom with a variety of juices is really good for masking its sharp taste.
Drink A Lot Of Water With It
Drinking plenty of water is really important if you are using Kratom. Water will help you digest Kratom as well. It also helps push it around and keeps you hydrated.
Click Here To Buy Potent Krave Kratom Powder White Maeng Da Online
Can I Take Multiple Doses Of Kratom As An Experienced User?
Compared to beginners, experienced users are more familiar with Kratom consumption and how it works. Regular users are more aware of how their body reacts to a specific dose or multiple doses.
So yes, as an old Mitragyna Speciosa user, if you are confident that you can handle multiple doses, then you can take it. But if you are pretty new to this domain, don't try taking multiple doses of this tree leaf.
Is It OK to Take Kratom Before or After A Meal?
Take your intake before a meal for some time and on other days after a full meal. Observe what suits you best and gives you the best results, and stick to that routine.
Many experienced Kratom users believe that an intake of a full meal, before or after a meal, leads to better absorption and rapid effect than an empty stomach. However, the scenario can be different for different users. You will get a better idea once you try it on your own.
What Time Is Most Suitable For Taking Kratom?
There is no specific time to take Kratom to get the most out of this magical herb. You can take it any time of the day. If you are new to the Kratom world and are confused about a good time to take it, try out different times of the day.
Millions of people prefer trying different times to take their desired doses. Many of them take it in the morning, whereas others ingest it in the evening. Millions of consumers like to take this botanical at night.
Kratom works differently with everyone; if your friend is getting results in the morning and you are not getting the desired outcomes at the same time, just change the timings of your Kratom consumption. Try it in the evening or at night to see if you get what you are looking for.
Are There Any Dosage Guidelines for Kratom Consumption?
Many people consume Mitragyna Speciosa as a pill, capsule, or extract. Some smoke its leaves, add them to their food, and some chew them directly or brew them into tea and juices to mask the slightly bitter taste of this plant material.
Don't start your journey with high or multiple doses; rather, start with small amounts and gradually increase the dose with time or when you think your body is prepared for a higher dose. It all comes with experience.
Conclusion
We hope now you have all the answers to your Kratom consumption-related queries. Keep your dosage as low as possible to avoid unwanted consequences, especially if you are a new user.
If you haven't noticed any undesirable outcomes, start experimenting with different doses until you figure out the right dose, and then Kratom will work perfectly for you.
Frequently Asked Questions!
Q: What is the right dose of Mitragyna Speciosa for a beginner?
A: If you are a newbie, you should be very careful when starting your Speciosa journey. Start with the smallest dose possible to ensure safe consumption. You can also use a measurement scale to calculate your dosage accurately.
Q: Can I take Kratom on an empty stomach?
A: Yes, you can take it on an empty stomach. Take it for a few days or a week, observe if it suits you and gives you a lasting response, and inculcate it in your daily routine.
Q: Can you smoke Kratom?
A: According to many users, smoking is a safe option because this botanical gets inhaled and is not absorbed directly into your bloodstream. So, yes, you can try smoking your favorite Kratom strain. You may or may not like it if you are doing it for the first time.
Click Here To Shop Premium OPMS Black Capsules Kratom Extract Online