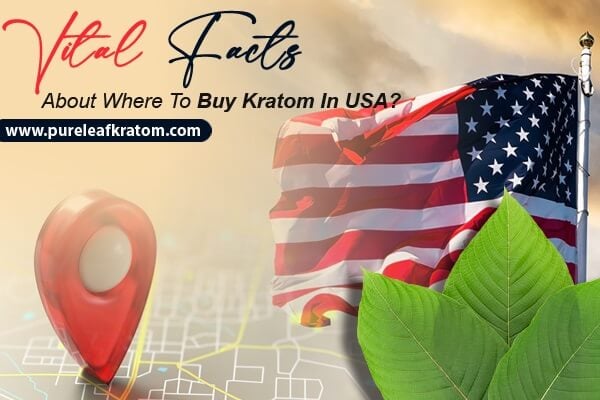 Facts About Where To Buy Kratom In The United States Of America?
The FDA does not regulate Kratom products in America, which means that you will return home disappointed if you went to Walmart, or Walgreens to get some of this herbal substance. The FDA says that the varied results for consumers make Kratom a doubtful and suspicious botanical and cannot be offered to the public. If you cannot buy Kratom from these shops, then where to buy Kratom in the USA?
When something is as promising as Mitragyna, there are interested people everywhere. Millions of consumers want to try this herb and get the stimulation and energy that we all need in this day and age. If you are also looking for Kratom, you must learn a few things about this botanical and the vendors that will be providing fresh, potent products.
In America, we have a widespread network of smoke and herb shops selling various organic kratom herbs. Moreover, online shops in the country are also a good option for people.
Click Here To Buy Klarity Kratom Maeng Da 300 Ct Capsules Online
History Of Kratom In The United States
Kratom is a Southeast Asian herb that came to America in the late 900s, and since then, there has been a lot of controversy around it. The stimulating and quick effects of Kratom alerted the FDA, and it began to speculate how an organic substance could be so unique for each consumer and how it could bring about a change with a single dose.
Moreover, the salmonella breakout due to contamination of products also led the DEA to request the government to ban Kratom in America.
The FDA did not approve of Kratom for human consumption, and the DEA repeatedly insisted that it should be banned. Nevertheless, the federal government did not ban this botanical, but it is illegal in a few states today.
The Legal Status Of Kratom In America
Kratom is allowed in the country, but since each state and city follows its rules, there can be some states or cities where Ketum is not legal. In the past, many states were doubtful about the safety of Kratom products for consumers.
Hence, they had laws regarding the use of Kratom for adults or a total ban on Kratom purchase or possession. However, the general public's interest and eagerness to use this substance led to petitions and consequential bills that legalized Ketum.
Places like Oklahoma, Texas, California, New York, and all major states allow the use of Kratom. Arkansas, Alabama, Vermont, Indiana, Rhode Island, and Wisconsin have banned Ketum because state lawmakers believe that if an organic substance can be addictive, it should not be in use.
The American Kratom Association
The American Kratom Association is an organization that overlooks manufacturing units and online shops in America. When you decide to buy Kratom in the USA, the vendor has to be selected carefully so that you can trust the products. The AKA came into being because of the FDA's absence of regulations. This association checks the quality of raw materials and ensures that the manufacturers keep up with all the standard outlines. If the AKA verifies a shop, it is safe to use and can be your go-to shop for Kratom.
The Guidelines Of The AKA
The AKA outlines the guidelines and demands all manufacturers ensure that they follow them. Here is the list of features that any Kratom shop must have for it to be a trustworthy and reliable seller:
Potent, healthy, and mature Mitragyna leaves from all-natural forests in Southeast Asia,
Clean and precise manufacturing methods to ensure the efficacy of Kratom alkaloids,
Laboratory testing on all the products to reveal the alkaloid profile and eliminate any doubt of contamination,
GMP-compliant, vacuum-sealed packaging for all the products.
These features will make it easier for consumers to spot and try out online shops that have proved their quality over time.
Local Vendors For Kratom
Apart from online shops, there are many smoke shops and head shops in all the states where Kratom is legal. These herbal shops buy Kratom from online shops at wholesale prices, but the quality of these products can be questionable due to the shop's storage and hygiene. Some shops follow the AKA's guidelines, while some shopkeepers are careless and do not ensure good storage methods.
If Kratom is old, stale, and left open, it can be full of mold and dust. Moreover, if the pack does not finish in a short time, the shopkeeper will keep selling it even if it becomes an old batch and should be discarded. However, this means that only some local vendors are safe. All consumers must check the shop's quality by reviewing the products before they decide to buy from them.
Click Here To Buy K 80 Kratom Extract Online
Frequently Asked Questions
Q: Is Online Shop Better For Kratom In The USA?
A: Online shops that the AKA verifies will be a safe choice for all consumers. However, if you can find a reliable smoke shop near you for Kratom, it can also be a good choice. Online or local shops are a personal choice, but the quality of Ketum items is the real concern. If a vendor promises to follow the guidelines of the AKA, then you can buy from them without fearing any unsafe products.
There are hundreds of online shops in the USA, and the number of local shops is also increasing over time. This increase makes it possible for consumers to find a shop for Kratom near them. If you have ever wondered where to buy Kratom in the USA, you will have to search for online shops or herb shops and smoke shops that offer herbal products from exotic places and ensure quality.
Q: How Can I Ensure The Kratom Shop's Quality?
A: Customer reviews are the best way to see if a shop offers quality items. The reviews from regular customers of any shop will be your way of assessing the vendor. We do not have much information about this botanical, and there is no scientific research available. In such a scenario, customer reviews can be most beneficial.
When looking for customer reviews, you can find out some good vendors and the strains that you should have according to the results you seek. When looking for a shop, be sure to check these reviews from neutral public forums where people post their experiences freely. Many online shops also publish reviews, but they can be biased. If you go to websites like Reddit, Quora, or any social media forum where people discuss Kratom, you can find genuine reviews.
Moreover, these forums are interactive so you can ask about a shop or strain. Many beginners will find guidance from these forums. The shops that many people talk about or appreciate should be the ones that you try out first.
Q: Is Kratom Legal in My State?
A: Kratom is legal in America, and you can buy, sell, and possess it in any state except Alabama, Arkansas, Wisconsin, Rhode Island, and Vermont. If you live in any state other than these, Kratom is legal. However, some cities do not allow the use of Kratom, so you must check the legality status of Ketum in your city.