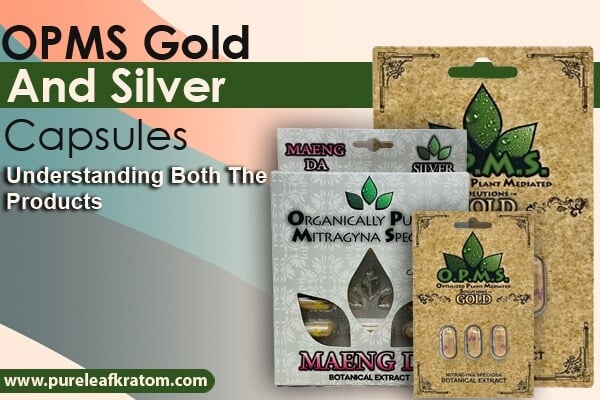 OPMS Gold and Silver Capsules: Understanding Both Products
If you are new to this industry, then you might be unaware that like MIT 45, OPSM Kratom is a famous name, and the most famous products they sell are OPMS Gold and Silver capsules. Due to the high demand, many vendors are selling this product.
Many Kratom fans have begun to flock to OPMS Gold and Silver capsules. This market, which offers hundreds of different products, is becoming more crowded every day. Even though millions of consumers have never heard of many of these items, regular Kratom users are acquainted with a few of them.
Click Here To Buy Bumble Bee Kratom Bali Gold Capsules Online
Brief Background Of OPMS
You have probably come across OPMS or Optimal Plant Mediated Solutions while looking through various Kratom products online. OPMS is an extremely inventive company, and consumers check out their products as a result. To maintain the same level of purity, potency, and performance across all of its products, the business employs a specific extraction technique.
By using this extraction method, the alkaloids are kept in their most potent state, and the user receives the highest-quality product. This is the reason why this name is well respected across the Kratom community.
What Are OPMS Gold Capsules?
OPMS Gold capsules are considered the most potent in this case. These capsules are created from a type of Maeng Da Kratom that has been separated using massive pressure and chilled water. The final step is to compress the extract into capsules after it has been transformed into a potent form of Kratom.
This product is available in various quantities, offered in packets containing 2, 3, and 5 capsules each. Due to their increased alkaloid content in comparison to silver ones, gold extract capsules are more potent. The effort that goes into making this capsule is praiseworthy, and the reason why it is in huge demand is that the level of the alkaloid is maintained. The whole process needs staff and equipment that are expensive; this is why OPMS is famous as compared to other brands.
What Is OPMS Silver?
There are numerous product lines offered by OPMS, and the Silver line is one of them. OPMS Silver is one of the company's oldest and most popular core products. This item is offered in a variety of Kratom blends, and every packet has a constant dose of alkaloids, making it a unique product.
It is made only with organic Kratom extracts. To make OPMS Silver, 1x extract is used, indicating that the extract contains the same level of alkaloids as the standard Kratom variety.
If you buy OPMS Silver Malay, for example, it will contain the same amount of alkaloids as standard Malay and the same is true for all other varieties.
Types Of OPMS Silver
When it comes to the varieties offered by the OPMS silver product line, there is diversity in it. They are listed below:
Green Vein Thai

Red Vein Sumatra

Super Green Borneo

Red Vein Maeng Da

White Vein Indo

Green Vein Maeng Da

Green Malay
All of these strains are popular due to the potency and qualities they offer. OPMS carries these strains in the form of capsules and kratom powder.
OPMS Gold And Silver Capsules: Which One Is Better?
There is no exact answer to this question. It all boils down to your preferences. However, we can help by explaining the difference between OPSM Gold and silver capsules. When it comes to pricing, OPMS Gold is stronger but more pricey than Silver capsules, and they offer fewer capsules in the package. On the other hand, if you are a person who likes variety, then keep one thing in mind Gold capsules will not satisfy you in this regard as it is always made from a proprietary blend of Maeng Da.
You can consult your doctor as well so that he or she can give you a better suggestion. There is no right and wrong answer; it all depends on what you want from your kratom experience. Our best advice is that you should try both of these products and see for yourself which one suits you better.
How To Differentiate Between OPMS Gold And Silver Capsules?
There are certain things to look for when you are buying these capsules. OPMS Gold is more powerful than the OPMS Silver. OPMS Gold only comes in one strain, whereas OPMS Silver is available in different varieties. OPMS Gold Capsules come with 3 purple leaves, and the Silver ones come with 3 gold leaves. It's confusing at first, but with time, you will learn to distinguish between them.
OPMS Capsules And Powder
You might have noticed that OPSM Kratom products are called extracts. This is because OPMS goods are created by using dried, and crushed Kratom leaves. The alkaloid components are strained out. After that, they are converted into powder form. The OPMS powder is placed in the capsule shells. There is no significant difference except for the taste and how long it takes to feel the effects. People who have less tolerance for bitter taste opt for capsules.
What Is The Ideal Serving Size For OPMS Capsules?

There is no concept of ideal portion in this regard. It all depends on your preference and how much your body can handle. The main factors that play a significant role in determining the portion size are:
Weight

Gender

Activity level

Age
You can also consult your doctor so that they can consider all the appropriate factors and let you know what is best for you.
Beware of Scams Regarding OPMS Products
As the OPMS Gold and Silver kratom capsules are in high demand, people have begun creating counterfeit OPMS. Now, you must be wondering what you can do not to fall prey to these vendors. When you are buying them, make sure that the logo is correct, and nothing is specious about it. The packets only come with 2, 3, or 5 capsules, and each packet has a serial number printed on it. Keep these little things in mind so to ensure that you are buying original products.
Conclusion

OPMS Gold and Silver capsules have many characteristics, and people like them due to their potency and alkaloid level. There is no doubt that they have a lot of qualities in them. If you have any doubts regarding these variants, you can refer to the guide above to clear up your confusion.
Frequently Asked Questions (FAQs)
Q: How many capsules can you take daily?
A: There is no ideal daily dosage. It depends on how much your body can handle. You can start small and work your way up gradually. It will help you in making the right choice that suits your body.
Q: What is the cost of these capsules in the market?
A: The price can vary and depends on the vendor from which you are buying. When it comes to the official site, the products cost $6.50 to $73.99. So it is better to make sure that the vendors are not charging you more.
Q: Where can you buy OPMS Gold and Silver capsules?
A: If you want to buy them in-store, you will find them in head shops, pubs, bars, and gas stations. If you are looking for a good price, we recommend online vendors like Pure Leaf Kratom.